HotStart™ Kiln by SKUTT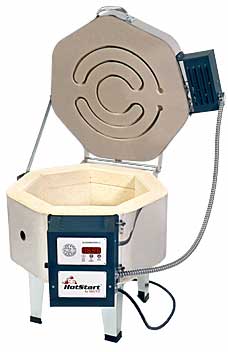 A 15-inch top-loading, top firing hexagonal kiln
Uses common household electrical outlet, UL & ULC approved
Accommodates a 13-inch round kilnshelf
Standard feature: the GlassMaster LT Controller
2-year warranty on parts and labor
8-inch Stand and Porcelain Peephole Plug included
The Kiln: A SKUTT workhorse, built to last and backed with a 2-year parts & labor warranty. Top Opening: 15", depth: 6.5". Plugs into standard household current in US & Canada, both UL and ULC approved to 1700 degrees F.

The Controller: The upgraded GlassMaster LT Controller, developed especially for the HotStartPRO, is fully pre-programmed to successfully fire and anneal glass projects up to 3/8-inch (9 mm) in finished thickness.

You first choose AUTO(matic) or PRO(fessional) programming. The AUTO mode is preset for Full/Med/Tack Fuse or Slump (optimized for System 96 products), with opportunities to adjust speed and hold times/temps.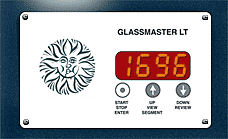 The PRO mode walks you through up to 8 segment settings for each of 5 custom programs. The custom programs are retained in the controller's memory for results you can count on every time you fire.

In either mode, you can elect to ADD Time and/or ADD Temperature on the fly, allowing precise control over heatworking. And, when your project is "just right," you can choose SKIP STEP and the intelligent Glassmaster LT jumps right to the next segment.

The HotStartPRO is the NO-COMPROMISES kiln for the glasscraft studio.

The Accessory Kit: The HotStartPRO comes complete with sturdy steel stand and porcelain peephole plug. The optional Accessory Kit includes a 13-inch round kilnshelf, three 1-inch posts, 8 ounces of shelf primer, and enough ThinFire shelf paper for three full-shelf firings.
Only: $844! Delivered to your door!
(Price includes 13" shelf kit, four sheets of Spectrum fusible 96 glass (6" x 6"),
shipping, handling and insurance. (Note: Shipping to AK & HI add $225.00))
How to order: Call toll free (800) 283-0593 between the hours of 10-5 PST, Monday through Friday and have your Visa or Mastercard ready.